Specification of MSS1000 Series Digital Intelligent Soft Starter
For MSS1000 series soft starter, three pairs of reverse parallel thyristors are connected in series to the stator circuit of motor. The input voltage of the motor will change with the thyristors conduction degree, which can be controlled by changing the triggering angel of the thyristors. So, the motor can be started more softly and smoothly. When the start process has completed and the equipment output voltage is up to the rated voltage, the bypass, three-phase contactor KM will close by the control of bypass output signal. At this time, the AC motor will put into operation in power grid, shown as Figure4-1.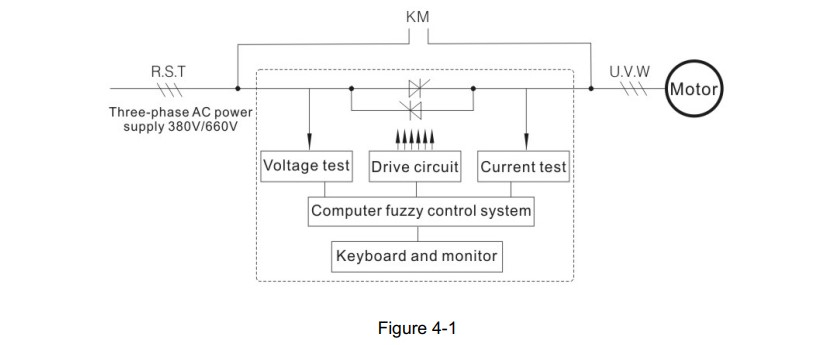 When the bypass contactor is closed and the motor is in the state of bypass operation, the starter will turn off thyristor trigger pulse. If you have set the soft stop function, the soft starter will first open the thyristor, then disconnect the bypass contactor, and then gradually reduce the thyristor conduction angle, so that the motor slowly stops to achieve the purpose of soft-stop.