Ⅰ. Brief description of equipment
High-speed motors are generally used in equipment such as CNC engraving machines, precision grinders and high-speed centrifugal equipment. We will take the CNC engraving machine as an example to introduce in detail the use principle and parameter design of the KE300A frequency inverter on the engraving machine.
Ⅱ. Process requirements
The spindle system is an important component of the CNC engraving machine, and its performance has a vital influence on the performance of the entire CNC engraving machine. The spindle motor mostly adopts two-pole high-speed brushless water-cooled motor, which has low noise and high cutting force. The operating speed is generally 0-24000RPM, and the corresponding frequency of frequency converter drive is 0-400HZ. Therefore, the system requires high speed stabilization accuracy, large torque at low speed, short acceleration/deceleration time, and low temperature rise at high speed to meet high production efficiency and processing quality.
Ⅲ. Basic operation and system principle
1. Basic operation
The default selection is V/P control mode. Use D1 and COM terminals to short circuit to control the start and stop of the spindle motor of the engraving machine. Set the seven-stage speed required for production through the D3~D5 terminals. DI2 terminal is used as fault reset.
According to on-site production requirements, set the parameters P0.17 and P0.18 to 15 seconds (acceleration/deceleration time). Considering the higher running speed of the motor and the stability of use, the frequency inverter needs to be used in a higher gear. The system runs stably under the seven-speed frequency of 50HZ, 100HZ, 200HZ, 250HZ, 300HZ, 350HZ, 400HZ, and the current is small at 400HZ (corresponding to 24000RPM), which can effectively extend the life of the motor.
Seven-stage speed terminal control sequence:
DI3: 50HZ
DI4: 100HZ
DI3+DI4: 200HZ
DI5: 250HZ
DI3+DI5: 300HZ
DI4+DI5: 350HZ
DI3+ DI4+DI5: 400HZ
2. System schematic diagram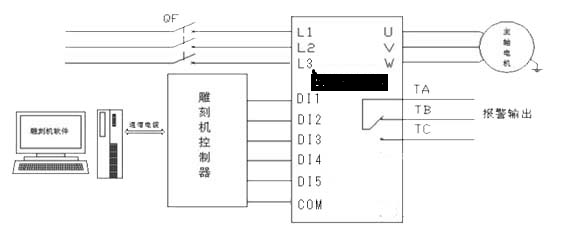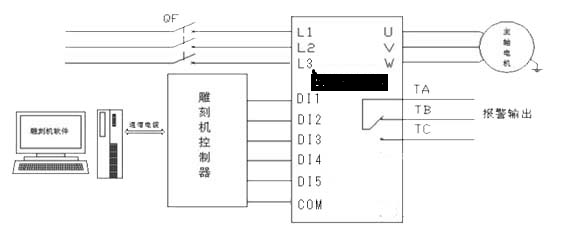 Ⅳ. Parameter settings and functions
Function setting parameters

Parameter setting value description

Parameter setting value

P0.02




External button start and

stop

1

P0.03

Speed setting method

6

P0.17

Acceleration time

15S

P0.18

Deceleration time

15S

P0.10

Maximum operating frequency

400HZ

P0.12

Operating upper limit

frequency

400HZ

P1.04

Motor rated frequency

400HZ

P1.05

Motor rated speed

24000

P4.00

D1 forward run command

1

P4.01

D2 fault reset command

9

P4.03

D3 Multi-stage speed

control

12

P4.04

D4 multi-speed control 2

13

P4.05

D5 multi-speed control 3

14
Multi-speed speed value setting
| | | |
| --- | --- | --- |
| PC.01 | One-stage speed setting 1 | 50HZ |
| PC.02 | Two-stage speed setting 2 | 100HZ |
| PC.03 | Three-stage speed setting 3 | 200HZ |
| PC.04 | Four-stage speed setting 4 | 250HZ |
| PC.05 | Five-stage speed setting 5 | 300HZ |
| PC.06 | Six-stage speed setting 6 | 350HZ |
| PC.07 | Seven-stage speed setting 7 | 400HZ |
Other set values default to the factory value and the inverter restores the factory value setting PP.01 to 1